Discover more from Bootstacker
Play the long game. Learn to code. Start a business. Vanquish debt. Build your dream life.
Business, Code, & My COVID-19 Story
Forming a business, code learning motivation, and my week with COVID-19
Thanks to everyone who reached out last week! I've totally recovered from COVID-19 and count myself extremely fortunate to have had such a mild case.
After 5 months of having Coronavirus news mainlined into my brain, I felt like I knew everything there was to know. Then I tested positive for COVID-19 last Thursday. This changed my perspective and had me asking new question.
Okay, so I have COVID-19. What now? How long will this last? What's the day-to-day symptom progression. What's the difference between asymptomatic and mild symptoms?
🦠 Covid-19 Progress and Symptom Tracker
It took a while to find answers to these, so I wanted to share my findings with you all. Here's a detailed summary of my experience with answers to those questions. Most of the news is focused on the rare horror stories where young people die, so I wanted to offer my experience as a more typical example of what a 20-40 year old might expect.
I also created a tool for tracking coronavirus transmission dates, symptoms, and disease progression. Here's a write up on this COVID-19 tracking template. There's a link to download the template at the bottom of that post.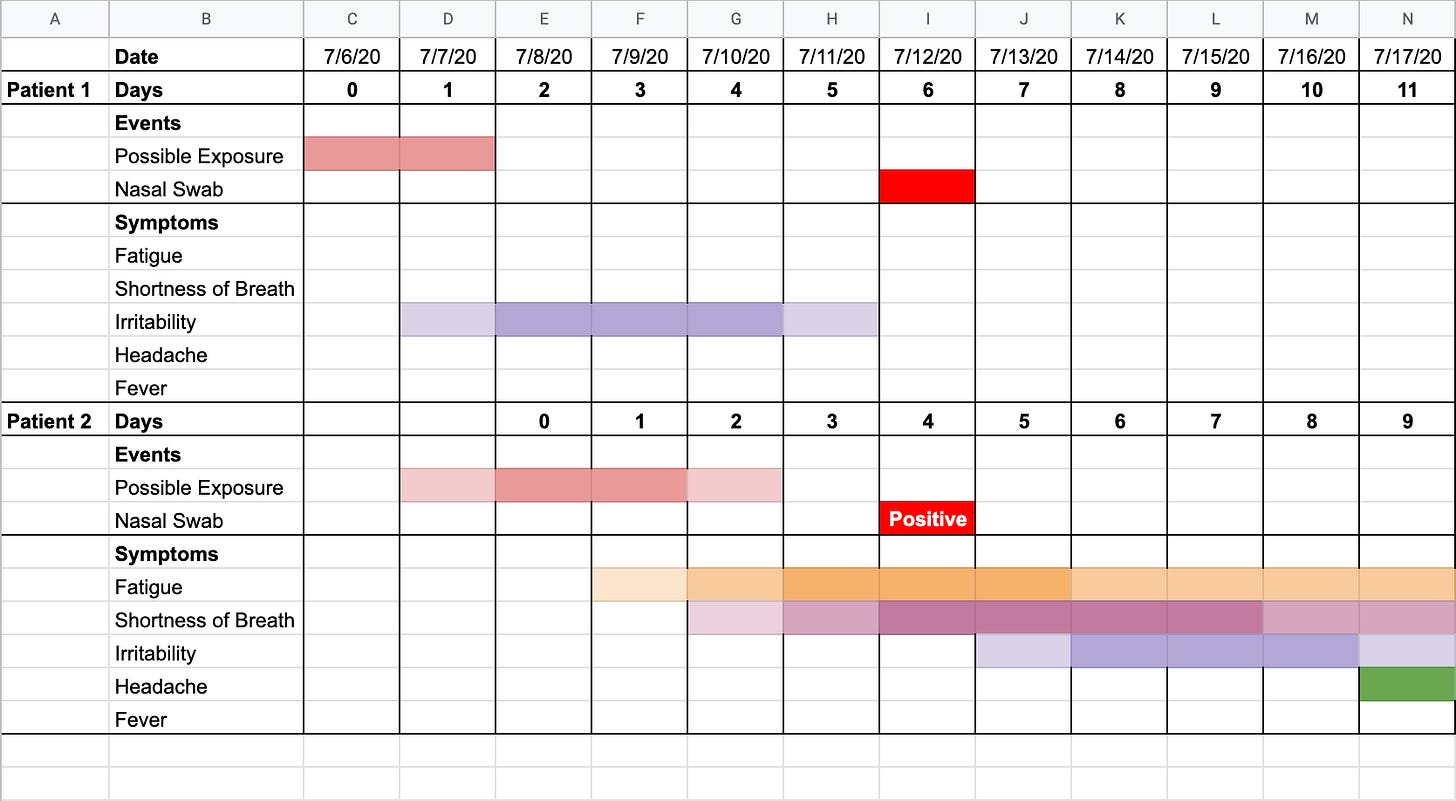 🏛️ Why you need an LLC
If you're doing any sort of freelancing or consulting work, and you're operating under your own name, then you are by default a sole proprietor. This can expose your personal wealth and any assets to liability. An LLC is a flexible, low-cost business entity that can give you liability protection and a number of other benefits. Here's a deep dive on how to form an LLC.
🤓 Code is just language
Code isn't just for math nerds. This is a common misconception and something I used to believe. It turns out that if you're good at language, you probably have a knack for writing code… you just don't know it yet.
🏗️ Replace
learn to code
with
build something
If you've had "learn to code" on your to do list for a while, it's time to scratch it out. When you cross it out, write "build something" beside it. This attitude is key to getting forward momentum. If you haven't had time to watch the first video I posted, check it out this weekend. I'll be posting the follow up in the next few days.
Motivation for Builders
As you think about building, I highly recommend you check out the IndieHackers community. You'll find a ton of like minded people who are in the same position as many of you. Set up an account and connect with me there.
Recently, I've come across several stories of people learning to code and totally changing their careers. Take for instance Jordan O'Connor's story. He taught himself web development to get out of debt and ended up bootstrapping a successful SaaS business. He was able to generate enough income to leave his 9-5 job and is now able to focus on his business full-time. You might enjoy reading his IndieHackers AMA and personal blog.